Jim Tucker, the sleuth who followed the Bilderberg Group around the globe in stealth for over thirty years to nail down, year by year for the world to see, what this gathering of one-hundred-twenty or so men and women, the very top leaders in government and industry, were planning secretly for our own future and upcoming events in other nations, has died at the age of 78.
Jim is survived by two sons.  We will miss him and his contribution us keeping us informed, projecting state of world three-months, six-months, or one years hence
The Bilderberg Group has held an annual meeting each year since is was formed at the Hotel de Bilderberg in Oosterbeek, Netherlands, May 1954. Meeting locations are kept secret in the sense that are not announced formally in newspapers or journals.
Normally, a few special guests are invited who, a year or two hence, have a significant effect, for example, on world economy or warfare in some land.  Were this not known but for the presence of Jim Tucker on the scene at a recent Bilderberg meeting with his associates gathering information, we would never be aware of what or who brought these effects about or why they occurred.
Several videos of Jim are shown, Jim Tucker vs, The Bilderberg Group and Bilderberg = Global Mafia.
Infowars.com carries the announcement of Jim Tuckers death and talks about the man.
____________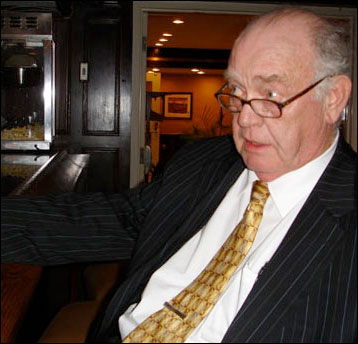 Jim Tucker, the ground breaking journalist who chronicled the activities of the secretive Bilderberg Group beginning in the 1990s, has died from complication after a fall. Tucker was 78.
Tucker departed from a Washington, D.C., newspaper in 1978 and worked with The Spotlight until that newspaper was forced out of business in 2001. He subsequently worked with The American Free Press.
In 2005, The American Free Press published Jim Tucker's Bilderberg Diary, subtitled "One Reporter's 25-Year Battle to Shine the Light on the World Shadow Government." It is described as "a memorable and panoramic journey that will lay bare the realities behind modern-day international power politics."
Jim appeared in Alex Jones's seminal film, Endgame: Blueprint for Global Enslavement, released in 2007. The film partially covers the 2006 Bilderberg conference at the Brookstreet Hotel in Ottawa, Canada.
Jim Tucker is survived by his two sons.
Infowars.com
____________
Download a copy of this report by first moving your mouse of this link.  Then depress the lever on the mouse to start the transfer.
More Vital News
Jesse Ventura – The Bilderberg Group    Watch this. It is REAL!  Ventura's film came out in December 2009, and this year was the beginning government pressure to get everyone immunized against the flu, now known as a made-up scare by Washington that went worldwide.  Relate "epidemic" to the one spoken of in this film.
See Something, Say Something… Rat Out Your Neighbor
Statistics Show You Are NOT Going to Be Killed by Terrorism
One giant leap for mankind: £13bn Iter project
New York Times Tells Truth About Syria; Neo-Cons Unfazed
The Real McCoy: Alfred McCoy on the Surveillance State
Climate scientists come to terms with the lack of global warming
Police State Euphemism: "Shelter In Place"
Obama administration openly pushing food stamps to illegals
White House says the US may use military force against Syria
We Must Worship Royalty And Uniforms!
Kansas enacts law to nullify federal violations of Second Amendment
All In The Family: Uncle Ruslan Married to Daughter of Top CIA Official
Rachel Maddow's Jihad Against Alex Jones, Part II
U.S. Companies Purchased 900 Million Rounds of Ammo from Russia
Enjoy!