You might have expected it before, but it's certainly here now: a German has implanted what certainly has to be thought of as "massive" computer chip in a subject's forearm.
The device was built by biohacker and transhumanist Tim Cannon and his business associates at Grindhouse Wetware.   And it was implanted by body modifier Steve Hayworth without the use of anesthesis in Cannon's left forearm.
The device open source and capable of recording and transmitting Cannon's body temperature over Bluetooth.   With it, Cannon can measure his temperature or observe any warning recorded by the device at any time in the past up to the present.
Mikael Thalen of StoryLead.com has the report.
____________
German biohacker and transhumanist Tim Cannon may be the first known human to implant a computer chip capable of transmitting biometrical data to an android device.
During an interview with Motherboard Magazine, the "Circadia 1.0," an open-source device capable of recording and transmitting body temperature over Bluetooth, was successfully implanted into Cannon's left forearm as is shown.
Built by Cannon and his business associates at Grindhouse Wetware, a company focused on "merging man and machine," the large chip was implanted by body modifier Steve Haworth without the use of anesthesia. The battery powered device, enclosed in a protective case, is charged wirelessly through the use of a charging coil placed against the skin.
"Instead of taking snapshots of your health by visiting a doctor, you can aggregate weeks or months of medical data that you can store for your personal viewing. Messages, warnings, or texts from your android phone to Circadia implant can be displayed via LEDs through your skin," the device description reads.
Cannon says the device will allow him to study what causes his temperature to fall or rise, with a later upgrade configuration allowing text messages to be sent if his temperature begins reaching 100 degrees °F.
This chip is capable to transmitting to an android device.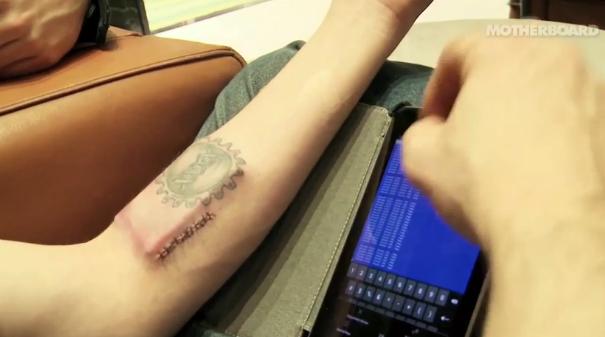 "The human body is really really failing in almost every way," Cannon says. "I want to live to be thousands of years old. I don't want to die. I don't know why anybody would."
Leaders in the transhumanist movement such as Google's director of engineering Ray Kurzweil predict that the human body will be completely replaced by machines by the end of the century, with human minds uploaded to computers by the year 2045.
Others such as Russian millionaire Dmitry Itskov believe that immortality through placing human brains in controllable robot bodies, also referred to as the "singularity," will be reached in as little as 25 years.
Sean Penn: Obama Should Issue Executive Order Committing Ted Cruz to Mental Institution    New!
Food Banks "Panicking" Over Demand Following Welfare Cut     New!
Halloween Costume Featuring Fake Gun Prompted School Lockdown     New!
Shots Fired At LAX       New!
Former CIA Pilot Plumlee Says Reagan Administration Responsible for Death of DEA Agent
Sesame's Street's Bert Sings About Obamacare Enrollees
Colorado Pot Law: Just Another Excuse to Confiscate Wealth
What Are You Going To Do When A Massive EMP Blast Fries The U.S. Electrical Grid?
Food riots, China cyber attacks, the rise of conscious AI and other 'what if' predictions
All-Time High Unemployment: The Economic Depression In Europe Just Keeps Getting Deeper
Tech Giants Throw Weight Behind Legislation Which Would ACTUALLY Rein In NSA Spying
Is Paul Krugman a Voodoo Economist?
Enjoy!