Well, Marc Faber, Peter Schiff, Donald Trump, and Robert Wiedemer are telling you what to do.
They're well respected economist, billionaires and well-know authors.
What they're saying is were about get the final wham that puts us in a recession.  This one will far outdo the previous one, which we experienced in 2008.  Hold onto your hats!  Here it comes!
The report of from Money News.
____________
Take immediate steps to protect your wealth . . . NOW!
That's exactly what many well-respected economists, billionaires, and noted authors are telling you to do — experts such as Marc Faber, Peter Schiff, Donald Trump, and Robert Wiedemer. According to them, we are on the verge of another recession, and this one will be far worse than what we experienced during the last financial crisis.
Marc Faber, the noted Swiss economist and investor, has voiced his concerns for the U.S. economy numerous times during recent media appearances, stating, "I think somewhere down the line we will have a massive wealth destruction. I would say that well-to-do people may lose up to 50 percent of their total wealth."
When he was asked what sort of odds he put on a global recession happening, the economist famous for his ominous predictions quickly answered . . . "100 percent."
Faber points out that this bleak outlook stems directly from former Federal Reserve Chairman Ben Bernanke's policy decisions, and the continuous printing of new money, referred to as "quantitative easing" in the media.
Faber's pessimism is matched by well-respected economist and investor Peter Schiff, the CEO of Euro Pacific Capital. Schiff remarks that the stock market collapse we experienced in 2008 "wasn't the real crash. The real crash is coming."
Schiff didn't stop there. Most alarming is his belief that daily life will get dramatically worse for U.S. citizens.
"If we keep doing this policy of stimulus and growing government, it's just going to get worse for the average American. Our standard of living is going to fall . . . People who are expecting Social Security can't get all that money. People expecting government pensions can't get all their money . . . We simply can't afford to pay them."
Equally critical of the current government and our nation's economy is real estate mogul and entrepreneur Donald Trump, who is warning that the United States could soon become a large-scale Spain or Greece, teetering on the edge of financial ruin.
Trump doesn't hesitate to point out America's unhealthy dependence on China. "When you're not rich, you have to go out and borrow money. We're borrowing from the Chinese and others."
It is this massive debt that worries Trump the most.
"We are going up to $16 trillion [in debt] very soon, and it's going to be a lot higher than that before he gets finished," Trump says, referring to President Barack Obama. "When you have [debt] in the $21-$22 trillion [range], you are talking about a [credit] downgrade no matter how you cut it."
Despite the overwhelming concern expressed by Faber, Schiff, and Trump, the most damning piece of evidence for immediate wealth destruction comes in the form of an ominous chart published last November that has been quietly making the rounds on Wall Street.
The chart, recently republished by Mark Hulbert on MarketWatch, shows a direct correlation between today's stock market and the one leading up to the historic 1929 collapse.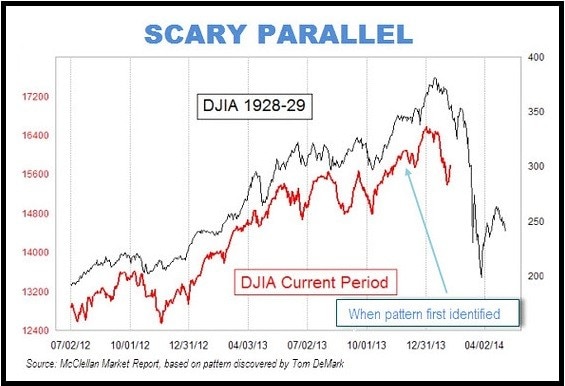 The shocking parallel confirms what one expert says is in store for our country and economy this year.
Read on!  To copy the article from its home page, put your mouse on this link and then tap it to start the transfer.
Enjoy!